Cartilage and Bone
There are three types of cartilage on the bases of characteristics of their extracellular matrix:
Hyaline Cartilage has an extracellular matrix that contains type II collagen, proteoglycans, and multiadhesive glycoproteins
Elastic Cartilage
Fibrocartilage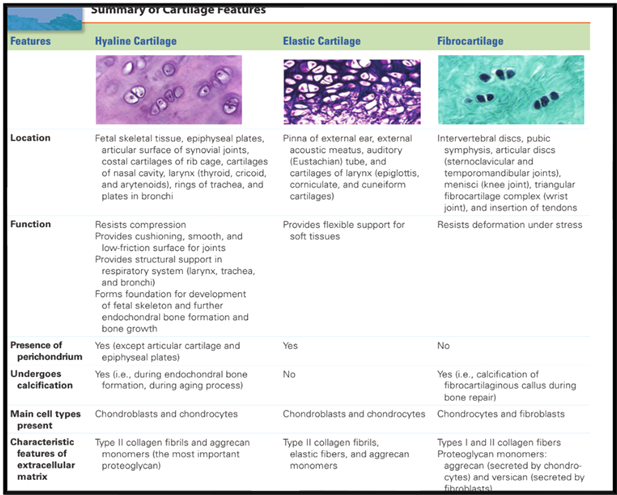 There are two distinct structural arrangement of bone tissue:
Compact or Dense Layer forms the outside of the bone, known as compact/cortical bone.
Spongy or Cancellous Laye is found on the inner aspect of the bone. Also known as trabecular bone. It consists of sponge-like meshwork of trabeculae, which are thin anastomosing spicules of bone tissue. Spaces within the meshwork are continuous and in a living bone are occupied by marrow and blood vessels.
Osteons are arranged along the axis parallel to the long axis of the bone (Haversian canals run parallel to the long axis of the bone). Collagen in concentric lamellae are laid parallel to one another in any given lamella. Between adjacent lamellae the fibers are arranged in different directions. This arrangement provides strength to the osteons.